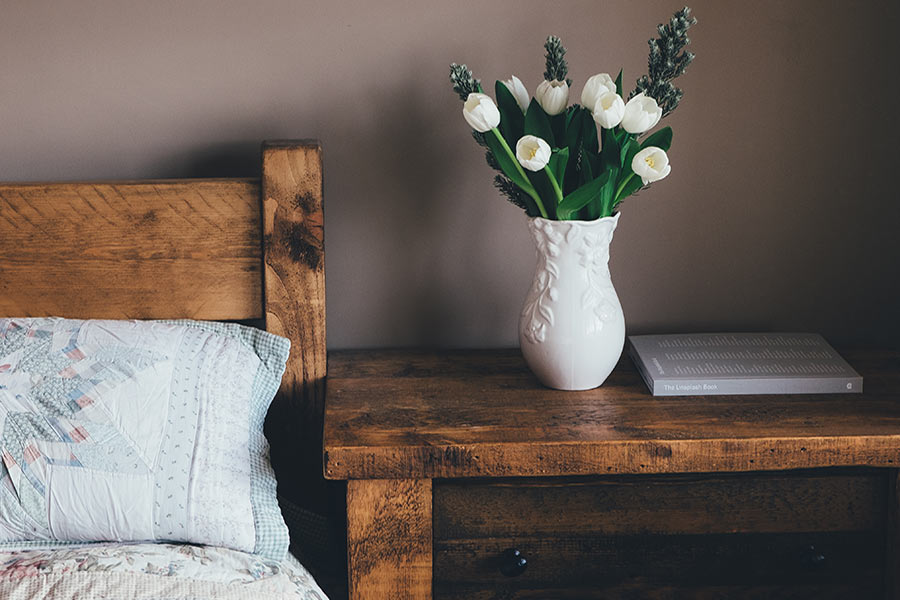 When you live in a country escape complete with an enviable northerly aspect and sweeping rural views, it's not hard to get a good night's rest. Creating the perfect bedroom design makes it a little easier, too. Here are our top tips on designing the perfect bedroom.
Make the view the focus
If you live in a home with breathtaking views, you may as well take advantage of it. Before you do anything else with your bedroom, envisage yourself waking up to a stunning rural vista, and think about how your bedroom layout can help you achieve this. Walking into a bedroom (and waking up in one) always feels nicer when the focus is on the view out the window, as opposed to looking straight at the bed or at a wall.
Choose the right wall colour
Waking up feeling well rested will set the tone for the rest of your day. Your bedroom is one of the most important rooms in your house, and you need to get the colour palette right. Spend some time considering your bedroom colour scheme and furnishings and how these things correspond to your personality and decorating style. Don't forget that certain colours can also evoke select emotions, behaviours or associations – it's worth doing your research on this so you don't get hungry every time you enter a warm-coloured room.
Consider other pieces of furniture
A bedroom should never comprise of only a bed (unless you are cultivating a very minimalist look). To bring a more human touch to the room – and for convenience sake for storing books or decorative accents – you should add at least one nightstand beside the bed. For larger bedrooms, also consider dressers, armchairs or a desk to add warmth.
Don't forget about the floor
Before building, you'll need to consider what kind of floor you will have in your bedroom. Carpeted floors are perfect for maintaining warmth and comfort, and there are plenty of plush, modern options to keep things looking contemporary. Another popular option is polished hardwood timber flooring, or even timber-look vinyl. If you go this route, keep your feet warm and comfortable when you wake up by placing a rug beside the bed.
Increase light and ventilation
If you can, it's a good idea to position your bedroom in the corner of your home. This is so you can have windows on two or more adjacent walls, which will allow the benefit of cross-ventilation and more soft, natural light. If this isn't possible, increase the amount of light in your bedroom with more down lights, decorative lamps and easily adjustable blinds.
Connect the bedroom with the outdoors
Before you build your home, make the most of your bedroom design by connecting it with an adjoining outdoor area. This will increase the sense of space and allow for more natural light to be let into your home. If your bedroom is on the ground floor, you'll appreciate the connection to nature. If your bedroom is on the second storey and adjoins a private terrace, you'll also have the added benefit of your own secluded balcony from which to enjoy the rural outlook over the valley.
Ready to build and design your perfect bedroom? Find out more about the land opportunities available at Valley View by calling Robert Menin on 0414 252 190 or Clint McCarthy on 0423 727 648 to arrange a viewing of our gorgeous rural lots.